KF Series Pinch Valve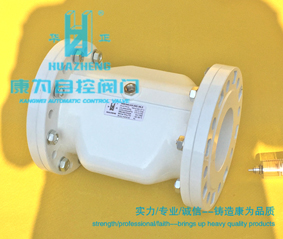 KF Series Pinch Valve
Introduction: DN: DN40-DN250
Working temperature: -20
℃

- +150

℃


Working pressure: 2-6bar
Sealing class: ANSI B 16-104, Class
Flange structure: standard aluminium, stainless steel/steel sleeve, internal thread, and internal bushing with flange
Body material: aluminium, stainless steel and steel
Flange material: aluminium, aluminium + stainless steel/steel sleeve
Internal rubber bushing: anti-wear natural rubber, food-grade natural rubber, nitrile, EPDM, Neoprene, and so on; please tell us if needing any other materials.
Features: the pinch valve mainly features smooth passage, resistance to wear, corrosion and fatigue, no pressure loss, being jamming-free, zero leakage, resistance to water hammer impact, good chemical and physical properties, easy replacement of internal bushings, and low maintenance costs.
The pinch valve is applicable for these media: cement, silo, sand, mineral materials, limestone, earth, marl, mortar, ore pulp, etc. It has excellent resistance to wear and corrosion as a good substitute for traditional valves, like ball valves, butterfly valves and diaphragm valves. The average life of the pinch valve through clear water tests is 300,000 times, and it can replace imported products completely. The pinch valve is applicable for the mining industry: wet magnetic separators, ceramic filters, MGM tubular membrane filters, Gore membrane filters, slurry pipelines for mine tailings and mining and dressing units; construction machinery industry; automatic metering devices and dosing systems for blending systems; metallurgy industry; automatic slag feeding systems in steel making; pharmacy industry; continuous conveying machines for large plastic infusion bottles; sewage treatment industry; and sludge transport pipelines.