KMP Series Pneumatic Pinch Valve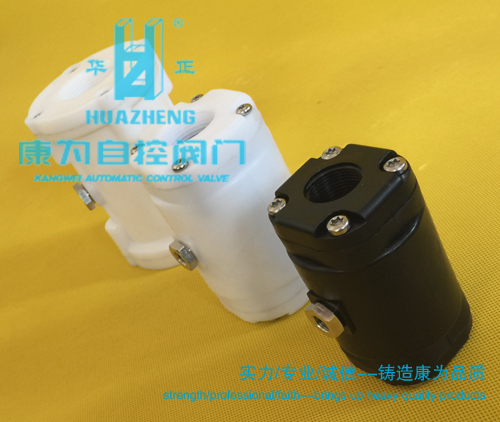 KMP series pneumatic pinch valve with internal thread
DN supply scope of KMP series pneumatic pinch valve: DN010- DN50.
Generally KMP series pneumatic pinch valve adopts internal thread connections as per DIN ISO 228 or other joint connections as required by customers).
KMP series pneumatic pinch valve includes the core part internal bushings, body and two sleeve covers. Its body consists of a principal part and two nip rings; the two rings are inserted to the end respectively and go through the O-ring and the principal part of the body respectively for sealing. In the body of KMP series pneumatic pinch valve, its internal bushings are centered and pressed against the end under the action of two sleeve covers, thus forming a unit with a compact structure.
Functions of KMP series: KMP series pneumatic pinch valve is closed through an action caused by a 2-3bar pressure difference (subject to the elastomer quality) of the medium/working pressure in its body. When the pressure supply is interrupted and air goes into the pinch valve body, the valve's internal bushings will be fully opened as a result of great resilience.
As for KMP series pneumatic pinch valve, only its internal bushings and two sleeve covers are in the medium flow (contacting the working medium).
Materials of KMP series:
Its internal bushing can adopt different elastomeric materials (natural rubber, natural rubber safe to food, high-temperature natural rubber, Neopren, EPDM, EPDM safe to food, Viton, Nitril, Nitril safe to food, so this series has a very wide application scope and almost no restrictions.
Besides, KMP series pinch valve adopts three different materials for its body and sleeve covers, further expanding the valve's application scope. Generally it adopts the following materials:
White POM steel reinforced plastic
Black POM steel reinforced plastic
Maximum working pressure of KMP series pinch valve
DN010-DN025: 6 bar
DN032-DN050: 4,5 bar