Powder Butterfly Valve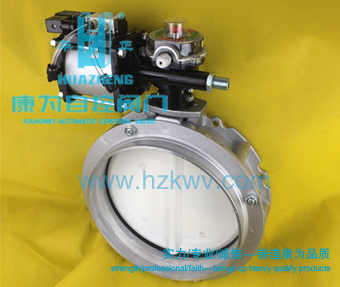 KANGWEI KW.F Powder Butterfly Valve consists of two semi-bodies made with gravity casting. The semi-body is made of aluminum alloy, and the rotary disc is made of a high-molecular material, featuring good airtightness. Its top and bottom adopt the same round flanges, and it has a top flange and an edge folding part, applicable for a flexible sleeve.
The powder butterfly valve is mainly used to open or close bins, hoppers and silos containing powder or granular materials. It can be applied for treatment of all powder and granular materials. The valve makes use of the material's own gravity to for cutoff and pneumatic transport of dry materials. It can be installed below hopers, bins, silos, spirals or other types of conveyers, or connected to pneumatic transport pipelines. Because of the valve's special structure and application of engineering materials, it's always a very economical and efficient choice.
Product features of powder butterfly valve:
KW1F single flange valve: with top flange and edge folding part, applicable for connecting flexible sleeves
KW2F double flange valve: with the same top and bottom flanges
The valve body made with gravity casting is stronger than that with die casting
The rotary disc is made of a high-molecular material, being anti-wear
With few assemblies, it's light and easy for handling
Product Details
Brand: HUAZHENG
Product Models: DN100, DN150, DN200, DN250, DN300, DN350 and DN400
Application Scope: concrete mixing stations and dry powder
Product Alias: Cement Butterfly Valve
Connection Type: flange
Material: cast aluminium alloy
DN: 100-400 (mm)
Applicable Medium: air
Pressure Range: 0.4(mpa)
Applicable temperature: 80
℃
Body Material: aluminum alloy for semi-body, and high-molecular material for rotary body
Structural Type: vertical plate
Transmission Type: pneumatic
Seal Type: soft seal
Configuration of Pneumatic Actuator: CP101
Powder Butterfly Valve (Installing Dimension Diagram)